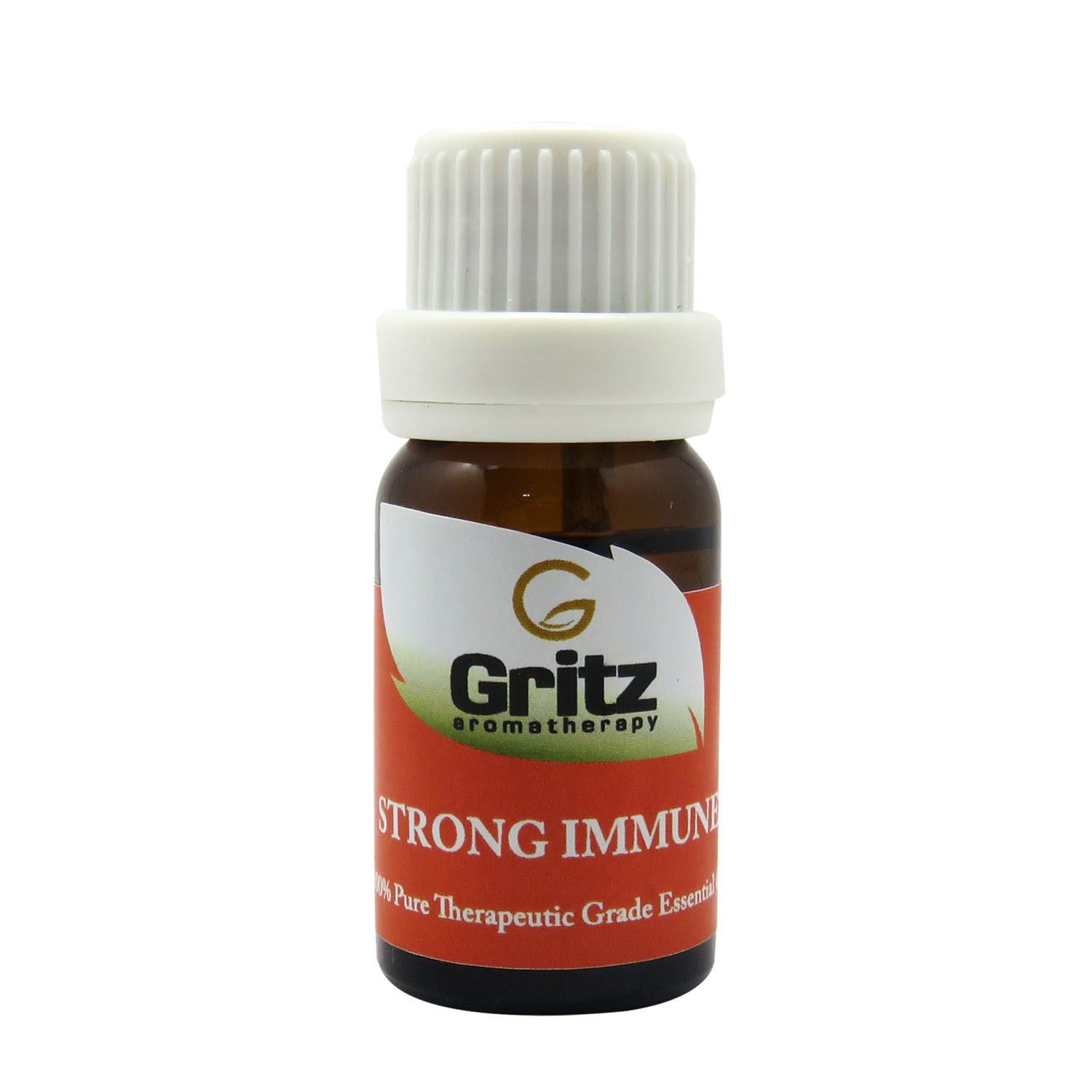 SALE! Strong Immune - 100% Blended Essential Oil
A perfect oil to keep you healthy year-round. This potent combination of essential oils includes antibacterial, antiviral, antimicrobial and anti fungal properties to stop those germs in their tracks. Restore your immune system when you feel a scratchy throat, swollen glands or just plain run down, and get back to living your life.

Ingredients:
Essential oils of Lemon (Citrus Limon), Bergamot (Citrus Bergamia), Orange, Frankincense (Boswellia Carteri), Clove (Syzygium Aromaticum), Tea Tree (Melaleuca Alternifolia), Thyme, Rosemary (Rosmarinus Officinalis), Basil (Ocimun Basilicum) and base oil.
Directions:
Drop few drops along the spine, around neck and bottom of your feet and rub in thoroughly before bed to give your immune system a boost while you sleep. Apply on your chest if you are experiencing a cough. Apply onto wrists, behind ears and on sides of your throat several times a day during illness and inhale deeply.
Precautions:
Keep away from eyes and mouth. Not for internal use. Avoid from high temperature.
(8ml)
---
REMEDI - STRONG IMMUNE
(100% PRA-CAMPURAN MINYAK PATI)
Rumusan dari 100% minyak pati gred terapeutik yang bersifat antibakteria, antiviral, antimikrob dan antifungal untuk membantu menyokong sistem imunisasi tubuh bagi melawan penyakit agar sihat sepanjang tahun.
Campuran dari minyak pati gred terapeutik yang terdiri dari Lemon, Bergamot, Orange, Frankincense, Clove, Tea Tree, Thyme, Rosemary, Basil dan minyak asas.
Cara penggunaan:
Titikkan beberapa titis di sepanjang tulang belakang, di leher dan bahagian bawah kaki anda dan gosok sebelum tidur untuk meningkatkan sistem kekebalan tubuh anda semasa anda tidur. Sapukan di dada jika anda mengalami batuk. Sapukan ke pergelangan tangan, di belakang telinga dan di bahagian kerongkong anda beberapa kali sehari semasa sakit dan hidu sedalam-dalamnya.
Langkah Penjagaan:
Jauhkan dari mata, dan mulut. Bukan untuk kegunaan dalaman. Elakkan dari suhu yang tinggi.
(8ml)
---